Key Factors to Remember When It Comes to a Passenger Van Rental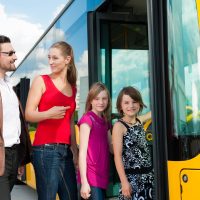 Are you planning a group trip to Florida? Perhaps you're heading to Disney. Maybe you're going south to Key West, or east to experience Miami. Maybe you're exploring Florida's Treasure Coast. No matter where you're going, you'll need a way to get there. A passenger van rental could be just the ticket, but there are a few things you'll need to remember what it comes to this type of rental.
Spacious
One of the things to remember here is that these vans are pretty spacious, but they're best suited for smaller groups. The average van can carry up to 14 passengers, plus your chartered, professional driver. That's a good size of a large family outing, or a small church group. Of course, if you have a large group, it's possible to rent two or more vans instead. However, if you have a bigger group, it might make more sense to opt for a larger vehicle depending on your budget.
Comfort
You'll find that a passenger van rental can be quite comfortable, as well. With the right charter company, you can rent a van with bench seats, which is a good option for families with smaller children who need a bit of flexibility. However, you can also opt for captain's chairs, which gives you more legroom and more comfort. That's an important consideration if you'll be traveling for a longer distance.
Amenities
While passenger vans are comfortable and do have a surprising amount of space, they're not all that luxurious. There is an AM/FM radio for entertainment, but that is about it. If you're looking for something more luxurious within the same rough size bracket, you might consider a sprinter van, which can be equipped with fiber optic lighting, a more advanced audio system, and other niceties. An addition upgrade to a party bus might be possible as well, which brings niceties like an onboard plasma TV, onboard Wi-Fi, leather seating, a wet bar, and more.
Ultimately, a passenger van rental might be a great way to travel throughout Florida. We invite you to get in touch with us at Great American Charters to discuss your needs, as well as your budget and how our fleet of vehicles can suit your travel requirements.