Safe Storage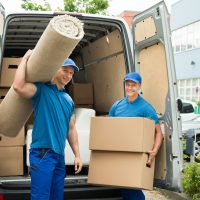 When it is time for you to move to a new location, you may need self storage in Hyde Park, Ill. In some cases, you are moving to a home or business that is smaller, and you don't have enough space for all of your personal possessions or business supplies. With a storage unit, you can keep items safe and dry along with having climate control to protect sensitive items. While you may have a vehicle to move smaller boxes of items, you can't transport appliances or furniture, so you must hire movers to help you load and unload items at a storage unit.
Efficient Moving
Self storage for Hyde Park residents is often essential during a remodeling project or when there is a plumbing disaster in a building. In many situations, you must work quickly to pack or store your items, and if you don't have enough time for the process, then you should hire technicians to help you. When you need to store expensive household or business goods, you don't want the items to incur damage during the moving and storage process, but our knowledgeable movers understand how to help you pack and store things.
Call Us Today
Alternatively, you might be a college student who needs to store things over the summer or while you are away from the area completing an internship. It is amazing how many things a college student may own in a small campus apartment or residence hall room. If you live hundreds of miles away, then transporting those things is expensive, and it is more affordable to store the items in a storage facility for a few months. To learn more about our moving and storage services contact Aaron Bros. Moving System Inc., at our website located at https://wemovechicago.com/.